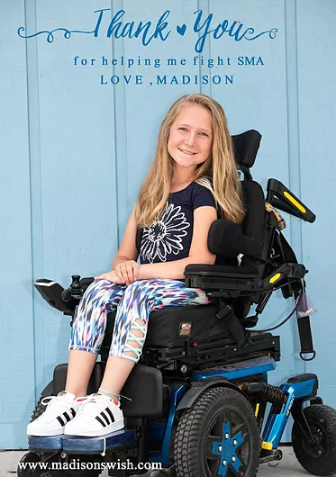 Madison Smith was born on October 4, 2006, and was sent home from the hospital with a clean bill of health. Just two days short of her first birthday she was diagnosed with Spinal Muscular Atrophy (SMA) Type 2, which is the second worst stage. Spinal Muscular Atrophy is a disease that robs people of physical strength by affecting the motor nerve cells in the spinal cord and taking away the ability to walk, eat or breathe. It is the number one genetic cause of death for infants. SMA affects approximately one in 10,000 babies.
Due to the deterioration of Madison's muscles, she was never able to crawl or walk. We knew we could not stand by and watch our child wither away or wait around for a cure, so we took action.  We started fundraising and founded the South Florida Chapter of Cure SMA, which funds SMA research and helps support other families affected by the disease.  We have spent countless hours lending emotional support to parents of newly diagnosed babies as well as raising funds and awareness for SMA.
By the age of two-years-old, Madison used a power wheelchair for mobility, had a BiPap machine for breathing support during her sleep, used suction plus pulse oximeter and cough assist machines, nebulizer, a vest for lung therapy and respiratory support, foot braces, knee braces, wrist splint, body brace to support her spine, ramps, therapy equipment and more. Due to her Osteopenia (decreased bone density) which is common in children with SMA, she undergoes a Pamidronate treatment every two months for an undetermined number of years. Madison sleeps in an adjustable bed and someone has to sleep with her every night so they can constantly turn her for comfort.
Madison is an amazing little girl who doesn't let her disease get in the way of living life to the fullest. She loves playing travel softball, fishing and swimming with the dolphins. She likes to dance and go to concerts, spend time with her family and go on road trips.  She also enjoys cooking, baking, painting, and most outdoor activities. We are always amazed at how Madison continues to fight SMA, live with a huge passion for life and touch so many people. We are making a difference in Madison and the SMA world!
Please help us in our mission.
Sincerely,
Jen & Aaron Smith