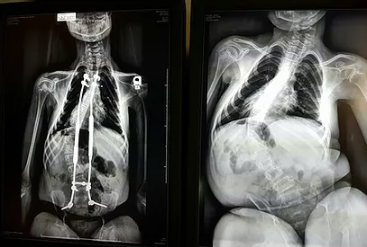 Madison also has scoliosis due to weak muscles which are unable to support her spine. Her curve is now at 52%.  On April first, she had  Magec rods surgery, where the doctor cut her back from top to bottom and place one rod on each side of her spine. These rods will support her spine to keep it straight. They have a magnetic system that can grow with her for approximately five years until she will need to replace them with permanent rods. Her surgery took around seven hours.  At this time, the family doesn't know what the costs will be for their out of pocket expense, or what kind of therapy will be required. It will all be contingent on the degree of success of the surgery and how quickly Madison can recover. In addition to numerous medical bills already incurred, here are some of the monthly medical bills the family faces for the care and well-being of Madison.

Thank you for supporting Madison!
Specialist Visit 4x Month
ER Visit - Avg 6 per year
Thank you for your continued Support!